UNODA and ROK open call for applications to Youth Forum on Disarmament and Non-Proliferation
UNODA and ROK open call for applications to Youth Forum on Disarmament and Non-Proliferation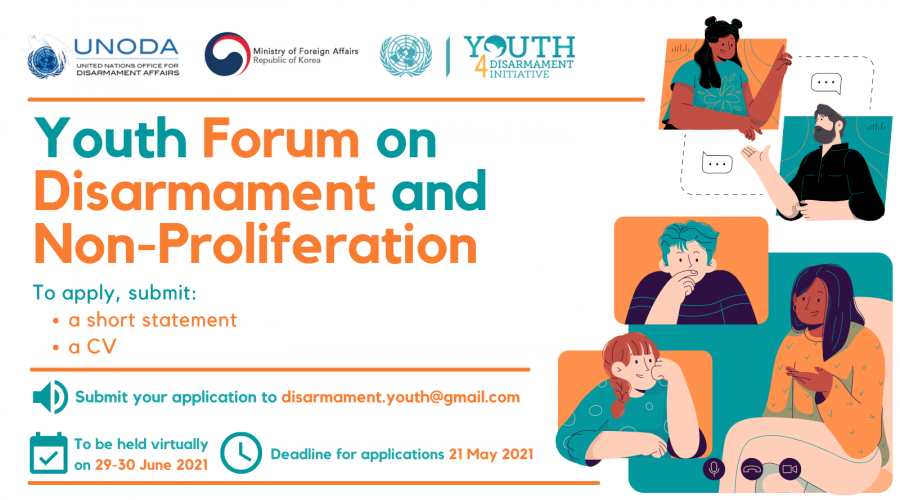 Youth Forum on Disarmament and Non-Proliferation
Call for applications now closed.
The United Nations Office of Disarmament Affairs (UNODA) and the Ministry of Foreign Affairs of the Republic of Korea are looking for motivated and energetic youth aged 18-29 from diverse backgrounds to share their perspectives and visions in the promotion of the UN disarmament and non-proliferation agenda.
In line with the UN Secretary-General António Guterres' Disarmament Agenda, Securing our Common Future, and the UN General Assembly resolution on "Youth, Disarmament, and Non-proliferation (A/res/74/64)", the Republic of Korea and UNODA will be co-hosting the Youth Forum on Disarmament and Non-proliferation on 29-30 June 2021 via a virtual platform. Among the applicants, around 20-25 participants will be selected across the world to be divided into three working groups by organizers based on their interests and work on the topics. During the two days, each group will make a presentation on the designated subthemes, followed by interactive discussions on how they can contribute to advancing the disarmament agenda for a safe, secure and sustainable future for all. A "Seoul Youth Declaration for Disarmament" will be adopted as a result of the forum.
Theme and Topics
Theme: Role of Youth in Securing our Common Future
The forum aims to inspire frank, open, and interactive discussions among youth participants on disarmament and non-proliferation issues. The central theme will be further narrowed by the relationship between disarmament and non-proliferation and (i) the UN Sustainable Development Goals (SDGs), (ii) new and emerging technologies, and (iii) gender. Participants could refer to a human-centered approach to create a space for youth to develop, discuss, and present their innovative ideas on the role young people have in addressing issues related to each topic.
Topics: Sustainable Development Goals, New and Emerging Technologies, and Gender
1. Sustainable Development Goals: Participants are encouraged to define the role of youth in placing disarmament and non-proliferation upfront in their own communities to help advance the UN SDGs, especially the linkages with Goal 16 on Peace, Justice and Strong Institutions and Goal 8 on Decent Work and Economic Growth. Specific ideas to address the problem of a world that is over-armed and where peace that is under-funded will be sought for.
2. New and emerging technologies: Participants are encouraged to discuss the opportunities and challenges posed by new and emerging technologies, how they relate to youth and how they may shape their future and global norms through promoting responsible innovation and use with a focus on Artificial Intelligence (AI) driven technologies such as lethal autonomous weapons, biotechnology, cyber security and space security.
3. Gender: Participants are encouraged to apply gender perspectives to disarmament and nonproliferation issues. Ideas to reduce gender inequalities within decision-making through education in the field of disarmament, including in relation to SDG Goal 5 on Gender Equality, will be sought for. Innovative Ideas on the role young people can play in addressing issues related to gender and disarmament will also be discussed.
Program Overview
- Virtual Orientation (End of May): Selected participants will meet each other via online platform and be informed of the purpose and process of the event and be offered opportunities to share and exchange their opinions and expectations on the themes and elements for inclusion in the "Seoul Youth Declaration.".
- Virtual Youth Forum (June 29-30): The participants will attend the forum and participate in group presentations and interactive discussions for two days, followed by the adoption of a "Seoul Youth Declaration for Disarmament" as the outcome for the forum. All participant will receive a United Nations-Republic of Korea certificate and be given due consideration to take part as observers in the 20th Republic of Korea-United Nations Joint Conference on Disarmament and Non-Proliferation Issues (tentatively November 2021), conditions permitting. The declaration, including the names of all the participants, can be shared at the First Committee of the UN General Assembly upon the proposal of a second resolution on Youth, Disarmament, and Non-proliferation by the Republic of Korea later this year.
PARTICIPANTS
Selection criteria for applicants to the Youth Forum:
Aged 18-29
Proficient in English
Demonstrate engagement and interest in youth, peacebuilding, and/or disarmament & non-proliferation issues
Be interested in international affairs including issues on development, new technologies, and gender
Candidates with backgrounds in other fields such as history, science, social sciences, economics, languages, film, media, visual arts, creative writing, etc. are encouraged to apply.
The Youth Forum will strive for gender parity and geographic diversity.
HOW TO APPLY
Interested candidates should send a curriculum vitae (maximum of two pages) along with a short motivation letter (1-2 paragraph, maximum of one page) to disarmament.youth@gmail.com. Applications will be carefully screened by the members of UNODA and the Government of the Republic of Korea on the basis of the criteria specified above. For further inquiries, please write to: disarmament.youth@gmail.com and eljin15@mofa.go.kr. 
The deadline for applications is May 21, 2021.