Dilan Ezgi Koç and Linh Trang Phung
Youth Champions for Disarmament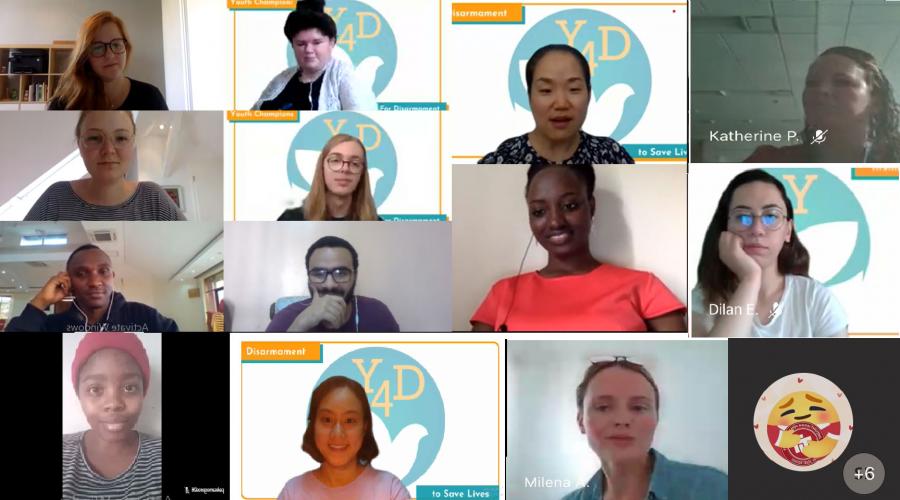 After watching a UN ceremony commemorating the International Day Against Nuclear Tests, the UN Youth Champions for Disarmament had a valuable opportunity to learn from two UNODA staff members about the 21st-century challenges and implications of conventional weapons, including their relationship with the UN's Sustainable Development Goals.
To start the discussion, Ms. Katherine Prizeman of UNODA's Conventional Arms Branch talked about the use and risks of explosive weapons in populated areas. She also explained how the UN is responding to this issue under the Secretary-General's Agenda for Disarmament.
The part of the Disarmament Agenda that deals with conventional weapons, "Disarmament that Saves Lives", has two goals, Ms. Prizeman said. Its first aim is to protect civilians and non-combatants as much as possible from indiscriminate weapons now that conflicts are increasingly being fought in cities instead of traditional battlefields. Its second element deals with the excessive accumulation and illicit trade of conventional weapons, including how they can go astray and become vulnerable to non-State actors looking to carry out terrorist acts.
Ms. Prizeman explained that conventional and explosive weapons are not inherently illegal, and nearly every country on earth has a national defence policy it implements with help from a standing army and conventional weapons arsenal. When these countries fight in populated areas, however, they sometimes use heavy conventional weapons that are too destructive for distinctions between civilians and combatants. In urban settings, these weapons not only take civilian lives, but also destroy civilian infrastructure needed for necessities like food, water, and health care. Therefore, to help protect civilians, the UN Secretary-General has called on parties involved in the conflict both to adapt their weapons and tactics and to comply with international humanitarian law.
The Youth Champions also heard from Ms. Milena Berks, another member of the UNODA Conventional Arms Branch, who stressed the benefits of conventional weapon-focused disarmament efforts in implementing the Sustainable Development Goals (SDGs) of the 2030 Agenda for Sustainable Development.

Ms. Berks noted that even though every Government has agreed to pursue SDG Target 16.1, "Significantly reduce all forms of violence and related death rates everywhere", many people still die in armed conflict each day and global homicides are only dropping slowly. Tackling this problem, she said, will involve collecting data and sharing military policies and practices on the use of explosive weapons in populated areas.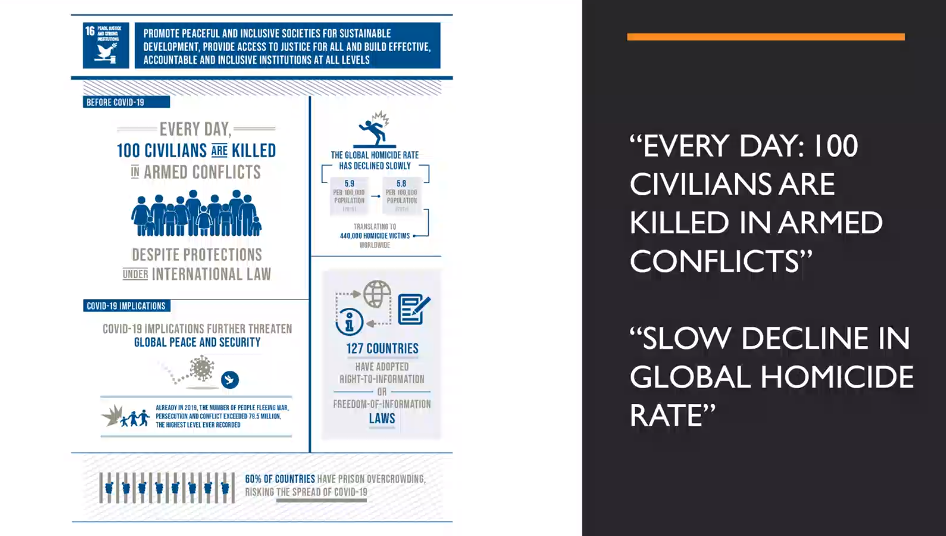 Ms. Berks added that the SDGs specifically address small arms and light weapons under Target 16.4, "By 2030, significantly reduce illicit financial and arms flows, strengthen the recovery and return of stolen assets and combat all forms of organized crime." There are good reasons for this special attention: the widespread availability of small arms, light weapons and their ammunition is a key enabler of armed violence and conflict, and such weapons are regularly implicated in acts of gender-based and sexual violence. This issue has been addressed from the perspectives of peace and security, gender and equality, transnational crime, humanitarian action, counter-terrorism and trade regulation.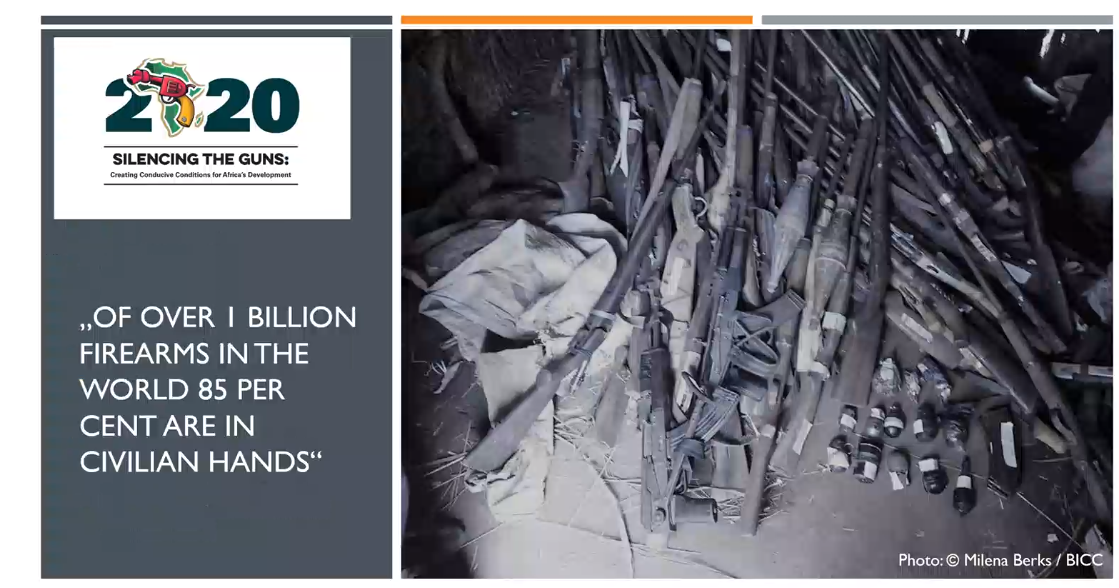 In the question-and-answer session that followed, the Youth Champions expressed concern about the urgency, impact and effectiveness of disarmament efforts for conventional weapons, and they asked how the link between disarmament and the SDGs could be further strengthened after 2030. The youth participants also spoke with Ms. Prizeman and Ms. Berks about emerging weapon technologies related to artificial intelligence, outer space and 3D printing, as well as the role of disarmament in areas like border control.
This discussion reminded us that we, as youth, can use our voice to raise awareness about the importance of disarmament to achieving the SDGs. We also felt affirmed by the two UNODA staff members, who encouraged us to apply ourselves towards building a more peaceful world. We would like to give a big thanks to UNODA for this invaluable opportunity, and we look forward to the next one!