#Youth4Disarmament Member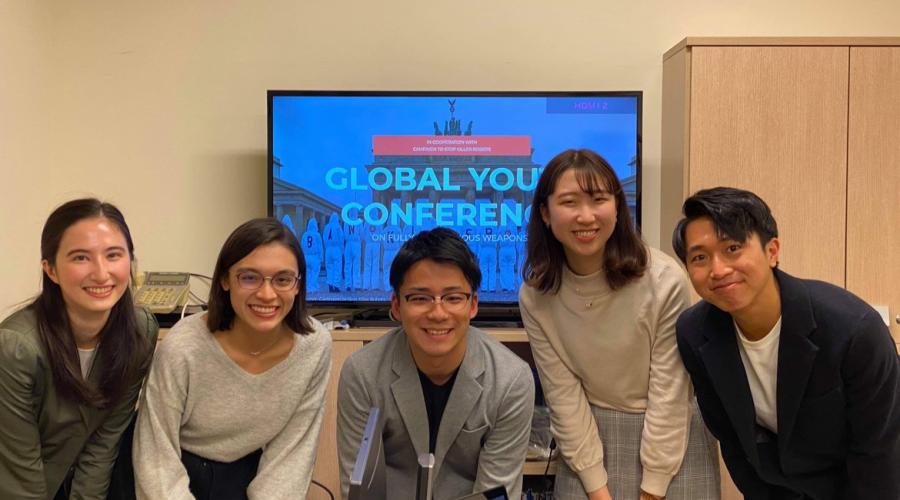 I took a deep breath and began reading my speech, starting from its first sentence:
"Today, I am standing here as a youth who is anxious about our future. The unceasing spread of the COVID-19, the increasing poverty, climate change, the ongoing human rights abuses around the world… In the time of the deepening uncertainty, we are now also facing the rapid development of the lethal autonomous weapons system, the so-called 'killer robot.'"
It was 12 December 2020, and I was at the office of Human Rights Watch in Tokyo, attending the online Global Youth Conference on Fully Autonomous Weapons. Just like 19 other youth speakers who joined from around the world, I was speaking out, in front of my laptop, to raise the torch of hope for a better future.
Our objective was to send the Government and the world a message from youth, urging them to create and support an international ban treaty to guarantee meaningful human control over artificial intelligence (AI) and emerging technologies. The youth organizers from the Japan-based International Student Conference (ISC) developed the event from scratch, and I was honoured to take part as the Japanese youth speaker.
The power of youth to speak out and be heard was evident throughout the conference, which succeeded in bringing together over 155 people from more than 40 countries. Our group of 20 youth representatives was joined by a member of the Japanese Ministry of Foreign Affairs, as well as the Japan Director of Human Rights Watch. We also listened to a pre-recorded video message from Ms. Soo Hyun Kim, the Focal Point for Youth Engagement at the United Nations Office for Disarmament Affairs (UNODA).
But what are fully autonomous weapons to begin with, and why do they matter to us?
Unlike current weapons, fully autonomous weapons—also known as lethal autonomous weapons systems (LAWS)—could select and attack targets without any meaningful human control. While AI and emerging technologies may help lessen human error in some situations, fully autonomous weapons would be unpredictable and could bring catastrophic risks.
For example, without a human "in the loop" to make judgments, a fully autonomous weapon could make decisions much faster than humans could comprehend its process for making those choices. Moreover, such systems could threaten minority groups if they reflect the prejudices and stereotypes of their developers.
For these and other reasons, fully autonomous weapons are said to represent a "third revolution" in warfare, with implications potentially as significant as the introduction of gunpowder and nuclear weapons. The possibility that these systems could lead to global instability and a new arms race is what helped them acquire their notorious nickname, "killer robots".
The Campaign to Stop Killer Robots, a global coalition of more than 170 non-governmental organizations in 65 countries, has been sounding the alarm since 2012. Nonetheless, international discussions on how to regulate such weapons are only moving forward at a snail's pace, even as several military powers invest heavily in developing weapons with varying degrees of autonomy.
What is worse, the use of LAWS in a real battlefield is more likely than ever before. In fact, it is said that weapon systems close to LAWS were already used in a war last year.
It is this urgency that drove 20 youth representatives from six continents to stand up at the Global Youth Conference on 12 December.
We each gave a speech of about three minutes, addressing three points: (1) our country's position on LAWS; (2) why we believe they should be banned; and (3) a call to action for our governments.
One of the many speeches that left an impression on me was from my fellow youth speaker from the Philippines. Noting that her city has been under ongoing threat from armed groups clashing in the southern part of her country, she emphasized the importance of banning new weapons that could proliferate and be used in future wars. Fellow speakers from the United Kingdom and Canada, countries with traditions of championing human rights, urged their governments to take leadership in banning LAWS that could infringe on the rights of minority groups.
As the youth representative from Japan, I called on my country to take two actions. First, to protect our nation and region from an endless arms race, I urged Japan to stand firmly as a "rule maker" by supporting a treaty to guarantee meaningful human control over the use of force. Second, I advocated for an international conference inviting civil society, the International Committee of Red Cross (ICRC), and youth organizations.
My country states that it has "no plans" to acquire fully autonomous weapons, and it has highlighted the need to retain meaningful human control over the use of force. Given its large diplomatic influence across the region, however, I believe it can take even more concrete steps and show outstanding leadership to the world.
Our action did not end with the conference. On 7 January 2021, four ISC organizers and I had the opportunity to visit Japan's Ministry of Foreign Affairs, where we met with an official overseeing LAWS-related issues. After discussing the Global Youth Conference for half an hour, we handed him our proposal, hoping deeply that it would lead to decisive action.
The voice of each youth speaker may be small, like a dewdrop. But just as a dewdrop can join with others to form a stream that finds its way to the ocean, one youth voice can become the start of a massive current towards a better world. That is why we should never underestimate the infinite potential of our voices, however small they may seem.
To conclude my short summary on our youth action, I would like to share the voices of 20 fellow representatives at the conference. I hope that some of them will resonate and inspire you to join our massive wave for a better world.
Because the power of a single voice—just like yours—is infinite.
------------------------------------------------------------------
We are your citizens, and any government with a shred of respect for human dignity cannot stand in the way of demands to regulate the morally abhorrent technology of lethal autonomous weapons. (Leyla Manthorpe from the United Kingdom)
In consideration of the issues of Artificial Intelligent Weapons and Killer Robots, it is important to be proactive rather than reactive. (Rikka Aarnos from Finland)
An arms race is not the way to close this technology gap. A pre-emptive ban is. (Tanvi Kejriwal from India)
We cannot stake the social future of humanity on these weapons. Even in a military war,
there should not be asymmetric warfare between humans and robots, an unbalanced and unfair thing. (Taufan Himawan from Indonesia)
We are asking you to protect life and human dignity for generations to come and work together with other countries to put the international ban in place before it is too late. (Fien Bosteels from Belgium)
This call is also directed to the youth people, to join the initiative of "Youth Against Killer Robots", so that as peace mentors, through our ideals and our ideas we can forge solutions to the very serious problem that generates autonomy in the Weapons Systems. (Alejandro Castañeda from Colombia)
An effective ban can only be enforced if a shared consensus among all countries is promoted with extensive diplomatic efforts and possible concessions to specific terms from all sides. (Nguyen Minh from Vietnam)
I invite you to picture a world in which we put our lives in danger because there is a killer weapon that could make an error leading to an innocent human life being lost. I don't want this world for us, for our generation, neither for the next ones. (Candelaria López from Argentina)
As youth, we should be concerned that there might be a war film in the near future, and instead of watching it on a big screen with popcorn by our side, we will instead be the casts if Killer Robots are not banned now. (Vera Hayibor from Ghana)
Creating these machine systems blurs the line of accountability and morality. (Yennie Sayles from Australia)
Future wars are not what we want. We need to act to avoid wars. We need to act to invest in our future – not in fully autonomous weapons. (Alliah Ampatuan from the Philippines)
The moral way forward does not include increased militarization but a commitment to solve human conflicts through humane and not artificial means. (Ryan Di Corpo from the United States)
You know, I always say: "if humans are programmed to live in peace, then war is considered an error in the system." But if we grow our artificial intelligence to fight in war, wouldn't then peace the error in the programme?  (Illés Katona from Hungary)
Only an international treaty can prevent autonomous weapons and the revolution of warfare that would follow from removing human control over life and death decisions. (Johanna Trittenbach from Germany)
The use of fully autonomous weapons would likely result in higher risk for marginalized groups and anyone who does not fit within the norm' as determined by the programmer.
 (Laura Verella from Brazil)
Killer robots are an unprecedented threat to humanity. If we do not take action soon, 
we are at serious risk of losing meaningful human control over the use of armed force. These weapons open the door to moral, ethical, operational, and control issues that put human dignity and accountability at risk. (Katharine Woolrych from New Zealand)
I believe that artificial intelligence and technology should be ethically used to serve humanity rather than using it in deadly weapons… I call upon my fellow youth from the region and around the world to raise their voice to save our future generation. (Hiba Khan from Pakistan)
Unlike so many tragedies in history where we were too late, we have an opportunity right now to stop the devastation before it even starts. This is my statement to the Canadian government: uphold our tradition of humanitarian intervention, uphold our support for peace and progress, uphold the sanctity of human rights. (Tara Osler from Canada)
Today, I am standing here as one Japanese youth who raises the torch of hope for our future and who urges the Japanese government and the world to take actions. (Aline Sauvegrain Tanabe from Japan)
Full statement of the youths can be viewed from here:
https://www.stopkillerrobots.org/2020/12/global-youth-conference-2020/