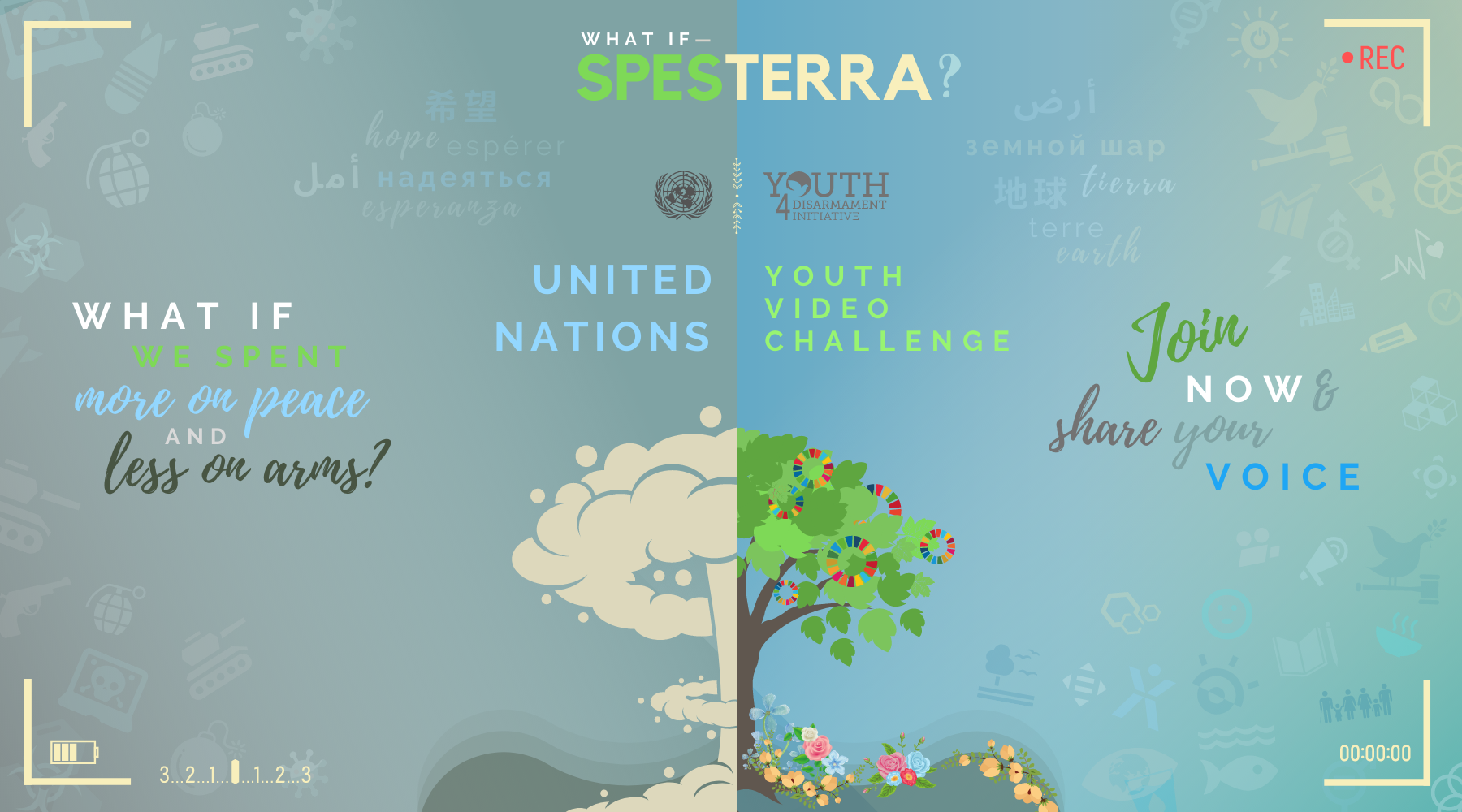 The United Nations General Assembly declared 2021 the "International Year of Peace and Trust". It is also the first year of the Decade of Action to usher in ambitious steps to deliver on the 2030 Agenda for Sustainable Development. Against this backdrop, the Office for Disarmament Affairs is launching the "What if — Spesterra" Youth Video Challenge to stimulate young people's interest and knowledge about the vital way disarmament contributes to a safer, more secure and sustainable world for all.
The Sustainable Development Agenda makes clear that there cannot be development without peace and security. Disarmament and arms control are integral to creating these conditions: fields need to be landmine-free before farmers can cultivate them; neighborhoods need to be safe from gun violence in order for commerce to flourish; and roads blocked by armed groups cannot serve a country's progress. The world needs to be free of nuclear weapons that cast an existential shadow over humanity. Unchecked military spending and growing stockpiles of weapons have not brought us closer to peace, and no number of weapons have protected populations from the COVID-19 pandemic.
Coined from the Latin words spes, which means hope, and terra, which means land, the "What if — Spesterra" Youth Video Challenge calls on young people across the globe to imagine a world without weapons of mass destruction, in which conventional arms are strictly regulated and resources are directed towards tangible social and economic benefits for people and the planet.
Making use of multimedia productions like short films, animations, documentaries, and music videos, young people around the globe are invited to showcase their vision of what the world would look like if we put people at the center of our disarmament efforts to save lives and make our world a safer place.
Rules and Regulations
SPONSOR
The "What if — Spesterra" Youth Video Challenge (hereinafter referred to as "Spesterra Video Challenge") is sponsored by the United Nations Office for Disarmament Affairs.
CHALLENGE PERIOD
The Spesterra Video Challenge begins on Thursday, 15 April 2021 (World Arts Day) and ends on 12 August 2021 (International Youth Day). The winners will be announced by late August.
WHO CAN ENTER
The Spesterra Video Challenge is open to young people of all nationalities who are from 18 to 24 years old. While the people appearing in the video do not have to be young, it is imperative that the video reflects the thoughts and opinions of the young filmmaker about the vital way disarmament contributes to a safer, more secure and sustainable world for all.
The person submitting the video ("the entrant") must be actively involved in its making (e.g., either as a director, writer, camera person, editor, actor, coordinator, etc.)
The video could be co-produced with a friend, colleague or partner ("the second entrant") who is also between the ages of 18 to 24 years old.
SPECIFICATIONS
Content: Create a video that presents your vision of what you think the world would look like if more money were spent on peace and development and less on arms.
Video length must be a maximum of 2 minutes and 20 seconds.
Video file size and file type:
Maximum file size: 100 MB
File type: AVI, MOV, MP4, OGG or WEBM
Language: Any language may be used for the video. If a language other than English is used, please provide the transcript (in the original language) of the script and onscreen text used in the video (to be used for translation). You may also provide an English translation of the transcript.
Style or form: Videos could be in any style or form (e.g., a short film, animation, documentary or a music video, or any combination).
Originality: All work must be original. No entries will be accepted or considered if they are deemed to use in whole or part derivative material that could be considered plagiaristic. Use of materials in the public domain are allowed. Copyrighted material are allowed only if the entrant(s) obtain the necessary permissions or licences (see "Permissions" below).
Permissions: Entrants are responsible for obtaining permission and licences to use any copyrighted material included in the video and should have the consent of everyone appearing in the video.
Multiple entries (maximum three) are allowed if the content is different from one video to another.
Submission: Entries should be uploaded to www.youth4disarmament.org/spesterra-video-challenge.
Safety: Be safe! You must ensure proper protection and prevention measures are taken while producing your video.
JUDGING
All entries will be judged using the same criteria: creativity, innovation, composition, theme and technique.
WINNERS
Fifteen entries will be chosen as the winning works. The makers of the winning videos will be invited to attend a summer intensive course on disarmament. They will also develop recommendations to achieve a world where peace and development is prioritized over weapons and military spending in order to secure our common future. They will present these recommendations, along with the winning videos, at an event during the seventy-sixth session of the United Nations First Committee. Winning entries will be featured in the websites and social media accounts of the United Nations Office for Disarmament Affairs and the #Youth4Disarmament Initiative.
COPYRIGHT
Entrants agree that the United Nations retains all copyrights of the materials submitted. Entrants agree that the video may be used by the United Nations and associated partners for non-commercial distribution (e.g. Internet, broadcast, educational screening, etc.).
CONDITIONS
The United Nations shall not be responsible for any loss or damage that may occur by entering the Spesterra Video Challenge, and the United Nations reserves the right to make changes to the rules of the Challenge without prior notification.
Spread the Word!
Join us in promoting the "What if – Spesterra" Youth Video Challenge! Below are useful resources from our Trello Board, such as suggested posts, images and videos for sharing on social media. You can use these directly or as inspiration in engouraging youth to share their creative vision for a more peaceful and sustainable world.
The basics
Hashtags: #Youth4Disarmament #SpesTerra #Y4Dvideochallenge
Social media messages
Downloadable social media assets